Trans Signal Technologies Pte Ltd was formed by a group of IT infrastructure professionals with a mission to integrate and provide our scope of expertise/knowledge to suit our customers' information requirements.
With more than 10 years of experience in the field and in an industry where changes occur by the day, Trans Signal Technologies is consistently upgrading its knowledge and skills to meet its customers' changing needs and requirements.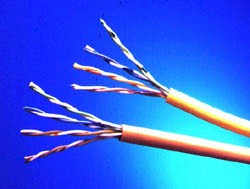 What we do
Trans Signal Technologies main focus is to provide a wide range of cabling installations for both Data and Voice, Fiber Optic, Telephone, Cat 5e , Cat 6 or Cat 6A cabling installation, we understand the standards and we do our best to exceed those standards. All our installations are TIA/EIA compliance. Trans Signal Technologies invests in leading edge testing equipment to provide customers with professionally printed test results certifying a successful installation.
Trans Signal Technologies work very closely with System Integrators and Interior Designer to enable them to value-add when the end users want a total solution. And we have our own satisfied end user customers in the Hospital Healtcare, financial, commercial, industrial and statutory board environment.